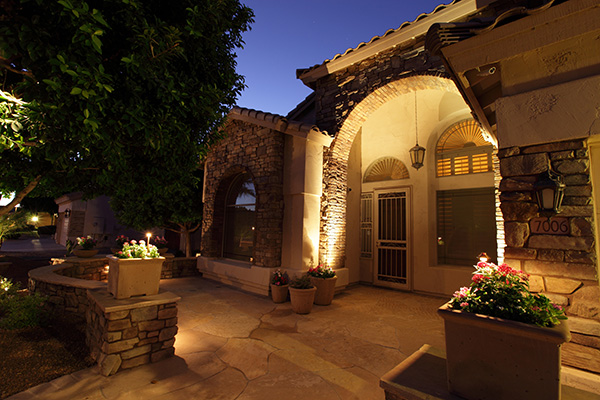 Why should I work with a landscape designer?
Quality landscape design is more than strategically placing pretty plants around a house. A well thought-out outdoor space is a harmonious composition in which your lifestyle, seasonal change, architecture and interior design and the level of maintenance you prefer are carefully taken into consideration.
I have lots of ideas. How will I be involved in the design process?
Our objective is to help you take your ideas and grow them into the outdoor space of your dreams. To do so we work collaboratively to determine which services best suit your needs, budget and timetable, based on your goals for outdoor living space. We also worked successfully with architects, engineers, soils specialists, arborists, builders and interior designers.
I don't think I will be able to afford to do everything at once. Can I install the design in stages?
Absolutely! We understand the importance of ensuring that the outdoor space looks good throughout an extended installation process. Clients are offered budget guidance for planning such longer term projects and these clients are supported throughout the process.
How much should I spend on landscaping?
Quality landscaping offers an excellent return on investment, ranking as one of the top home improvements. According to MONEY magazine story on home renovations, landscaping has a recovery value of 100% to 200% if it is well done and harmonizes with foliage nearby.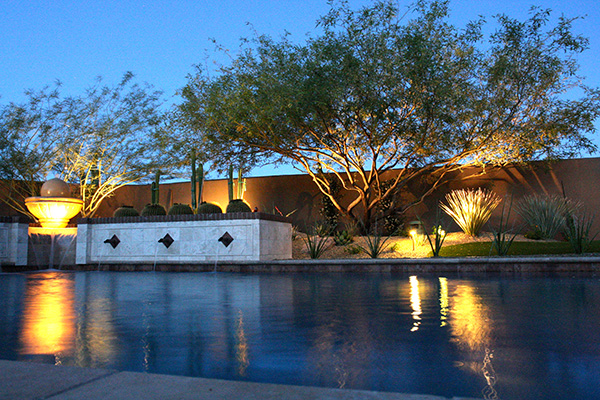 What are the steps involved with a typical landscape improvement project?
Every project follows three major stages when creating a beautiful, long term successful landscape; design, installation and maintenance. Each stage is important and we have proven methods and experienced team members to make each part of your project an enjoyable experience and a beautiful result.
What is your design process?
After our initial site meeting and agreement to work together, we begin our efforts by asking for your detailed preferences and by investigating your site. Site research includes: locating and identifying existing plant material, locating existing elements of the house (windows, doors, A/C condensers, etc.), photographing the site, and surveying the existing grades of your home and property, if needed.
Once the research is done we reference this information as we explore ideas and illustrate conceptual landscape designs that address your goals in different ways. The concepts and budgets are reviewed with you to gain your input and to have your full involvement in developing the final landscape plan and proposal for the landscape of your dreams.
How long does a project take from design to completion?
This depends on the scope of the project. A typical front foundation planting could be completed within 2- 3 weeks of the acceptance of a proposal. A simple patio could be done within 3-4 weeks of issuance of the necessary permits. A full site development or redevelopment could take 3–6 weeks to plan, another 3-4 weeks to obtain permits and 4-12 weeks to install depending on the complexity of the project.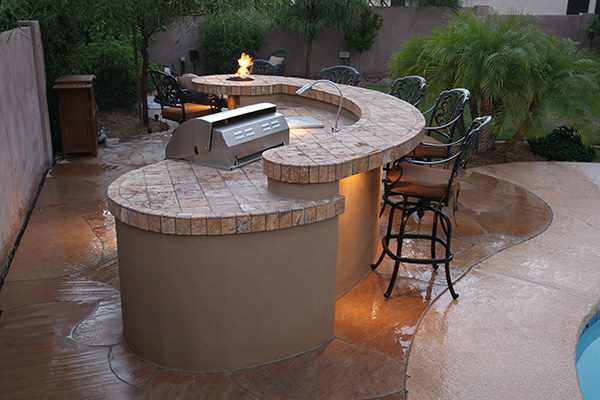 What landscape elements do you design and build?
We can help you design something as simple as an elegant front walk to a new patio to a complete comprehensive site development including driveway, site grading and drainage, detailed gardens, entry and site walks, outdoor living areas including pools, outdoor kitchens and patios, and beautiful plantings.
What locations do you service?
We design and build award winning landscapes throughout the entire Phoenix area.
After the landscape design is complete, who does the installation?
The exact same person who you meet with on day one and walks you through the entire landscape design process will lead the installation. Unlike other companies whose landscape designers may rarely visit your site after finishing the design, our designer will be on-site nearly every day of the installation. This ensures that the many miscommunications that develop in the chain of command from landscape designer to superintendant to project manager to foreman will not occur when you hire Axiom Landscape & Design.
Additionally, the installation process offers dozens of detailed design opportunities. It could involve adjusting the layout of the plants or the curve of a path or wall for a more striking effect. If you work with a company whose designer is not leading the installation, there will be many missed opportunities to refine such details. When you work with Solstice Landscape Design every detail is designed carefully for a more beautiful and sensitive garden.
How do I start the design process with Axiom Landscape & Design?
Contact us to set up an appointment to meet with one of our talented designers at your home. We want to hear how you envision the project and you and your family would like to use the space. Our design staff will work with you through the entire design and project process.

Still have questions?