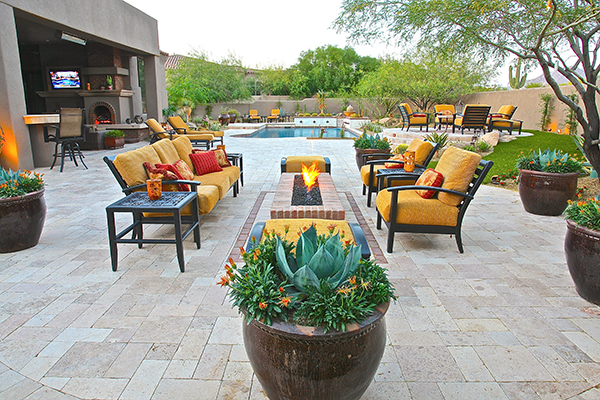 In the first step of our process, we will set up a time to meet with you to conduct a site visit of your residence. A site visit is vital, because it allows us to establish an accurate estimate of the scope of work to be performed. While at your residence, we will discuss the overall goals of the project, ideas to incorporate and creative and functional ways of achieving the goal in mind.
Once a scope has been defined, we will propose an Agreement for Landscape Design that will assess the design fee to be associated with your project, define parameters of the intended designs, highlight the inclusions and exclusions and provide an overview of what the design process will encompass.
Upon acceptance of the Agreement for Landscape Design, we will schedule a time to revisit your residence to conduct the following:
Measure in detail the existing site "as-built" conditions.
Note any items to remain throughout the design.
Note all necessary elevations; i.e., grade, wall heights, structure details, etc.
Note any/all utility stubs pertinent to the landscape design; i.e., hose bibs, external outlets, location of irrigation control clock, valves, etc.
Note views (if any) or adjacent buildings to be 'blocked'
Photo document the site for design reference.
After revisiting your residence, we will begin the first phase of the design process to establish the 'layout design' of the general surface areas. This includes, but may not be limited to the parameters of walkways, patio, structures, etc. Initial design time varies greatly with the complexity of the design.
Once the first phase of design is in place, we will arrange another meeting with you to go over the direction of your design and why it works/looks the best. It is important in this phase that our client's input is sought to make certain we are heading in the right direction.
Upon completion of the final design, we will provide you with a line-itemed estimate showing quantities and prices of proposed design elements. In addition, we will go over the phases of landscape construction to give understanding to the proper way a project effectively comes together.
Finally, after the agreement has been accepted, the line-item estimate will be incorporated into the Contract and a payment schedule will be agreed upon. An average project will have a down payment, progress payment at stated phase of construction and a final balance due upon completion.
Now that you know the process, ready to get started?